Laurel Canyon Association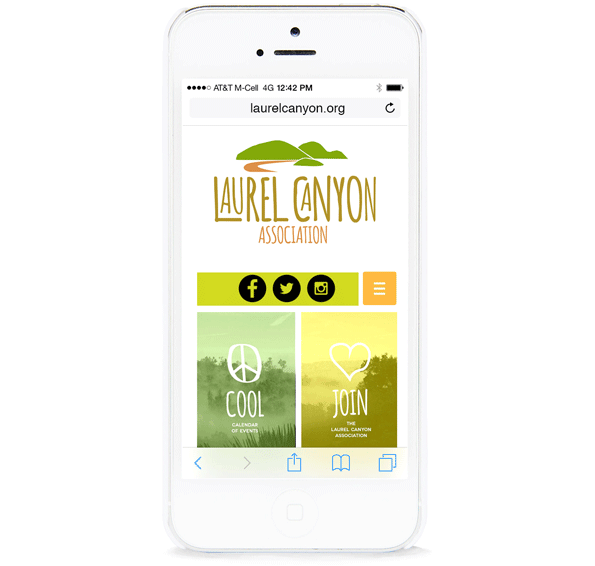 We collaborated with The Laurel Canyon Association to create their brand identity. The Laurel Canyon Association was founded for the express purpose of preserving and improving the quality of life in Laurel Canyon.
Laurel Canyon found itself a nexus of counterculture activity and attitudes in the 1960s, becoming famous as home to many of L.A.'s rock musicians, such as Frank Zappa; Jim Morrison of The Doors; The Byrds; and Buffalo Springfield. Joni Mitchell, living in the home in the Canyon that was immortalized in the song, "Our House", written by her then-lover Graham Nash, would use the area and its denizens as inspiration for her third album, Ladies of the Canyon. Crosby, Stills, and Nash first met each other in her living room. John Phillips of the Mamas & the Papas took inspiration from their home in Laurel Canyon in the song Twelve Thirty a.k.a. Twelve Thirty (Young Girls Are Coming to the Canyon), released in 1967. In 1968, John Mayall recorded and released Blues from Laurel Canyon based on his experiences on a vacation earlier that year. (Excerpted from Wikipedia).
The vibe of the logo/logotype was inspired by the history, people and culture of Laurel Canyon from the past and present. The logo was based on one of the many spectacular views from the Canyon. The organic logo/logotype has a handmade quality which was combined with an upbeat, earthy color palette to complete the identity. Iconic symbols with modernist techniques were used for the brand's assets. www.laurelcanyon.org
Greg Chinn graduated with a BFA in Graphic Design from Art Center College of Design. He has been Senior Designer at The Fashion Institute of Design & Merchandising, Art Director of Wet Seal Clothing Company and Owner/Creative Director at Jargon Boy Design Studio. He is currently the Design Director of Seireeni+Chinn | Brand Architects. His work has been featured in numerous design publications/websites including Dwell, NYT Fashion & Style and HGTV. Greg resides in Laurel Canyon with his very patient wife and their two acrobatic kids.